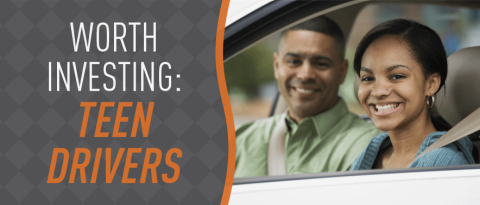 Worth Investing: Teen Drivers
When teens get behind the wheel, their families start to worry about several things: safety and finances among them. While the sticker shock of having another driver in the house can be intimidating, investing in your teen is important for their safety in a few ways.
New and Improved
From rearview cameras to lane change alerts, it's easier than ever to maneuver some of the more difficult aspects of being behind the wheel, notably when it comes to teenagers driving.
To help select the right features for your teen's vehicle, don't forget to search available safety and technology options that can help make the car, truck or SUV a perfect fit.
GM's OnStar® program, which is available on most new GM vehicles, is a great way to help your teen prepare for the unexpected when driving. With Automatic Crash Response, Crisis Assist and Roadside Assistance capabilities, OnStar ensures help is just a click away.
Extra options might increase the price of the vehicle overall, but they can help keep your teen safe on the road — making them well worth the money.
Stress Safety First
It's not just vehicle safety features that can have an impact, though. Investing time with your teen can make a world of difference developing smart, safe driving habits, which long outlive their first car. Just talking about buckling up, using blinkers and maintaining a safe following distance can be key for new teen drivers.
And with technology ever-present in our lives, it's a good idea to talk about how to avoid distractions when driving. Changing the radio, applying that final coat of mascara or talking with friends can be dangerous in the driver's seat. Remind your teen to always be fully focused on the road.
To take safety a step further, look into the settings on your teen's phone. Do Not Disturb features are available on most smartphones, whether they're built in or through a downloadable app.
These can detect when the phone is moving or connected to your teen's vehicle's Bluetooth system, which automatically sets it to Do Not Disturb so notifications are turned off. Don't worry, though. Your teen will still have complete access to all notifications once they're safely parked.
Remember the influence your driving has on your teen, too. They'll likely model their driving style after yours, so ensure you continuously practice what you preach.
It can be challenging to keep track of everything when your teen is about to hit the road. Download our Road Map for Safe Teen Driving to guide you through the process and help you remember what's important.
Lease or Buy
There's a lot to consider when it comes to getting your teen a set of wheels. Whether it's determining safety must-haves, figuring out how to split the bill or choosing whether to lease or buy, there are many moving pieces.
However, with benefits to both options, it's all about your preferences and lifestyle.
Consider leasing if you:
Like to experience new more often
Want your teen to have the latest safety features available
Plan to take advantage of lease-end options
Consider buying if you:
Want the freedom to personalize the vehicle
Prefer to worry less about wear and use
Know the car may be driven a significant number of miles
Consider starting your lease or buying a new vehicle now if you have a few years before the teen in your life hits the road. Then, when they're old enough to drive, you can pass on a vehicle you trust that already has your preferred safety features.
Not to mention that means you're in the market for a new vehicle yourself. Win-win. Our online credit application can help get you started right away.
Better Safe than Sorry
Your teen driver is well worth the investment. Keeping safety at the forefront of your teen's driving experience — both through features and conversations about it — can help you breathe easier as you watch them pull out of the driveway.