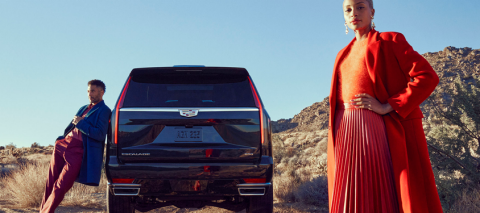 Lease or Finance: A Personal Choice
Choosing between leasing or financing your Cadillac can maximize your Cadillac experience in the way that fits you best. Discover the benefits of each.

Advantages of leasing
Indulge in "new" more frequently. Experience the newest in technology, styling and performance by choosing a new Cadillac every two to three years. Reserve the option to purchase your Cadillac at the end of your lease.
Pay for your use only. Drive your Cadillac when it's new and under warranty.
Capitalize on lower monthly payments. Your monthly payment reflects your average mileage. Travelers with consistent monthly mileage can calculate annual totals for maximum benefit. Some lease contracts allow up to 75,000 miles over a three-year term, allowing high-mileage drivers to consider leasing.
Potentially qualify for a waived disposition fee. If you finance or lease another Cadillac or other GM vehicle or purchase your existing Cadillac at lease end, you may qualify to have certain lease-end fees waived.
Have confidence at lease end. No need to worry about depreciation or selling your vehicle.
Advantages of financing
Customize your Cadillac to your preferences. No restrictions.  Learn more about special ordering your custom Cadillac.
Drive without limits. No mileage limits offers you more flexibility for unexpected travel without worrying about end-of-lease fees.
Relish carefree experiences in your Cadillac. Though you may take meticulous care of your Cadillac, the unexpected may happen. You are in control of when and how repairs are made if any excess wear and tear occurs.
Build equity and potentially own your Cadillac. After you've paid off your Cadillac, you're free to cruise payment-free or trade it in for something new. Apply to get prequalified and choose a new Cadillac with confidence.
Customize your financing terms. Take advantage of flexible financing terms ranging from 24 to 72 months according to your preferences.1 Prequalify for financing options.
Connect with your preferred Cadillac dealer for a breakdown of the cost difference between leasing or financing the Cadillac you're interested in. View our offers page to learn about current attractive opportunities.
1Available in most states.