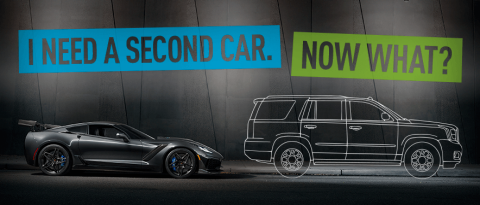 I Need a Second Car. Now What?
The more life changes, the more a second car might become a growing need. And when planning for your newest set of keys, you have plenty of affordable options to choose from.
Lease or buy
The decision to lease or buy a second vehicle is an important one. The good news? Both options have unique advantages that could make them work for you and your family.
Leasing is the perfect choice for those wanting to drive a new vehicle with the possibility of having a lower monthly payment. And if you know how many miles you'll be driving or want to experience the latest technology more often, leasing is a great option for you.
When leasing a new vehicle, make sure you budget for additional items like excess wear-and-use coverage and additional mileage if those options sound like they're right for you.
Pro tip: The disposition fee may be waived if you buy or lease a new GM vehicle or purchase your current leased vehicle. The fee covers the cost of preparing the vehicle for resale if you choose to turn it in.
Buying a new car might be the right fit for those wanting more freedom. Whether in the form of customization or not having mileage limits, buying is great for those who prefer a number of possibilities. Plus, buying a car gives you the option to get a return on your investment and trade in your vehicle when you're ready to upgrade.
Remember to factor in the other financial aspects when planning to buy, like maintenance and upkeep, when estimating overall cost and determining how much car you can afford.

Certified pre-owned
If going the new route isn't necessarily your desired option, buying a certified pre-owned vehicle might be the right choice. You get the experience of having a car that's new to you while still staying within your budget.
A key to pre-owned shopping is knowing what you want before stepping into the dealership, but also being aware of things you might be interested in for the right deal. The vehicle with more safety features might sound appealing if you're buying for a teen driver, for instance.
After weighing all of the options, you're set to head to a dealership. To be even more prepared when you walk in the door, apply to prequalify.
Ultimately, buying a certified pre-owned vehicle gives you budget-friendly options. Inventory varies from dealership to dealership, and you might find yourself pleasantly surprised at your options.
Final decision
Everything considered, the choice to get another vehicle is a big one. But it doesn't have to be something you stress about. Simply take a look at what you want and how much you can spend to ensure you're in a great position to start looking.