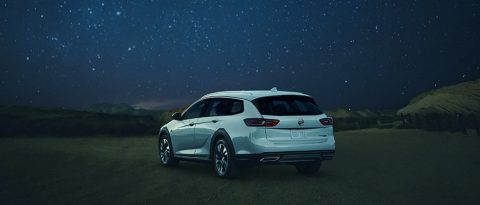 Summer Night Drives: Good for the Soul and Your Car
Open roads, clear skies and stars for miles make nighttime one of the best times to be behind the wheel. No matter where you live or what vehicle you own, there's nothing quite like being out on the road after the sun goes down, especially during summer.
Here are some late night drive ideas that will help you beat the heat and make your summer one to remember.
Hit up the local drive-in
In the same way record players and '90s grunge are back, drive-in movie theaters are all the rage. Even with social distancing in place, you might find a theater in your area that can make your next family night in your vehicle a reality.
Something to look up before picking a showtime is how audio works at your theater of choice. Most places have radio stations that broadcast the film's sound to line up with the visuals, but leaving your car running with the AC on for the whole movie will likely put a strain on your battery. Instead, roll down the windows, bring battery-powered fans for everyone in the car and have a stereo tuned to the theater's station to avoid mishaps.
If you're in a truck or SUV, pack up some blankets and pillows for added comfort. Then fold down the seats or clear out the back and enjoy your feature presentation.
Keep your eyes on the skies
Movies aren't your thing? Grab your keys and hop in your vehicle to view something truly spectacular — the contrast of a dark sky with bright stars. Just scope out a place you can safely park and get comfortable under the night sky.
August tends to be the peak time for celestial beauty and meteoric activity, too. Catch some of the most extravagant shows, like the Perseid meteor shower in mid-August, by simply scoping out the perfect spot, grabbing some snacks and hitting the road. Then let the sky do the rest.
Remember to be safe when making the trek out to see meteors or a sky full of stars, especially if you're driving into the early morning hours. And always check weather conditions in your area to be sure the roads aren't affected and make sure you'll be able to see the other worldly views.
Indulge in a random road trip
Pack your bags for everything — mountains, beaches or back roads — and take off on a trip to wherever the road takes you. Feel like hanging a left? Do it. Want to stop for food? Take the next exit. Remember to practice social distancing and follow recommended guidelines to keep yourself and others safe during the pandemic.
Make it a solo trip or take your quarantine crew to create your perfect night drive. Ditching the maps and finding your way through somewhere new puts your adventure skills to the test.
Driving a few hours in whichever direction you choose is a great way to see the night's sky and discover a new place you might not have intentionally visited otherwise. Then, spend the next day safely exploring this new location before heading home, or if you're really feeling up to it, taking off to your next surprise destination.
No matter what you end up doing or where you go, nights spent behind the wheel are an excuse to rekindle your love for driving while getting out of the house. Who knows, you might even feel like a teenager again.