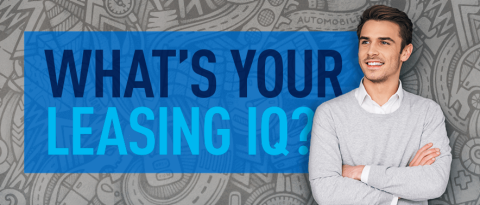 Getting in the driver's seat of your recently purchased set of wheels is exhilarating. There are so many memories to be made, miles to be driven and journeys to take.
Leasing your vehicle has benefits of its own. When you lease a car, you're using it for a predetermined period of time, which makes for a different driving experience. Here are a few things to know about leasing before deciding on your next vehicle adventure.
You're in Control: With a lease, you have a number of options tailor-made to fit your needs. You are the driving force behind the length of your lease, if you want extra coverage for wear and use, and how many miles are included for the duration of your lease.

Tip: When deciding on the number of miles in your lease agreement, figure out your average daily miles and select the option that's slightly above it to prevent overage charges.
Taste Test: If commitment is hard for you when it comes to what you drive, leasing gives you the freedom to try vehicles every 24 to 36 months. That means you can tailor your vehicle to your current needs and experience new features with each vehicle you lease.
Warranty: With a lease, you're driving the vehicle for the first few years of its life on the road. That means you'll likely get the manufacturer's warranty for the duration of your time behind the wheel, and you don't have to worry about repairs for anything it covers. This makes leasing the perfect option for those wanting a more hassle-free car experience.
Money in the Bank: Having your eyes set on a car that's out of your price range can be disheartening, but leasing oftentimes can get you behind the wheel of that car for less than purchasing. To determine financially whether you should lease or buy, take a look at what you need to have versus what you want.
Lease-End Options: Perhaps the best thing about leasing is that when you're nearing the end of your lease agreement, you have options. Looking for something different? Trade in your lease for another GM vehicle. Fell in love with the car? Purchase it. Wasn't your cup of tea? Consider returning it. Exploring each possibility will help you find what works best for you.
Know Your Lease-End Liability: At the end of your lease, you may owe additional amounts. Your lease agreement is a great resource to see what amounts may apply. Lease-end liability may include excess wear, mileage overage or disposition fees. Excess wear covers any damage to the vehicle that's more than normal. Mileage overage is exactly that — paying for miles beyond the contracted amount. Disposition fees are applied after you return the vehicle and cover costs of preparing the vehicle for resale. The disposition fee may be waived if you lease a new GM vehicle.
Ultimately, choosing your vehicle and whether you lease or buy is entirely up to you and what you're looking for. But knowing the benefits of both can help make the decision that much easier.