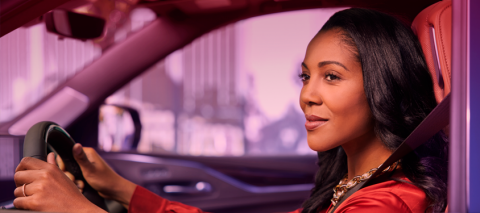 Custom Design Your New Cadillac
Imagine a refined cockpit featuring a 38-inch OLED display, premium semi-aniline leather seats with heating and ventilation, or a powerful 6.2L 480 hp V8 engine. The possibilities are endless when you design your ultimate in luxury. Consider custom ordering a Cadillac to express your personal style and performance preferences. Getting started is just as convenient as ordering dinner. Allow our experts to take you through the process and answer any questions along the way. From Linear Tiger wood trim to metallic finishes such as Infrared Tintcoat, ordering your Cadillac ensures you get the performance and personalization you desire.
Personalize your exclusive Cadillac
We believe you deserve it all. That's why every new Cadillac is backed by a comprehensive suite of remarkable features and upgrades, such as distinct exterior colors, powerful engines, and premium leather and wood trims, to provide luxury owners with everything they need.
Unlock the potential of your custom-made Cadillac by visiting your preferred Cadillac dealership to build in person or going online to cadillac.com. During the design process, you can select from the comprehensive suite of features available for your Cadillac and see how premium finishes and safety features enhance the vehicle's appearance and performance.
Do I qualify for Cadillac offers or other opportunities?
In some cases, you may be able to special order a Cadillac and still qualify for valuable offers and opportunities. Discuss your eligible saving options with your preferred Cadillac dealer.
How do I finance a custom Cadillac?
Once you've built your Cadillac, you'll coordinate with your preferred dealership to explore financing options. Just like when you buy a car off the lot, they'll have access to multiple lenders, like Cadillac Financial, and can work with you to find the financing or lease agreement that works best for you. To get a jump-start, apply to prequalify for financing and use our payment calculator to estimate your payments.
What should I expect with vehicle delivery?
Your dealer will be the best source of information regarding the delivery of your Cadillac. They will provide you with an estimated time frame before you place the order and will keep you updated throughout the manufacturing and delivery process.
Customizing a new Cadillac is an exciting experience, and we're here to help you feel confident about it. Find a Cadillac dealership near you or visit cadillac.com to custom build and price your exclusive Cadillac.