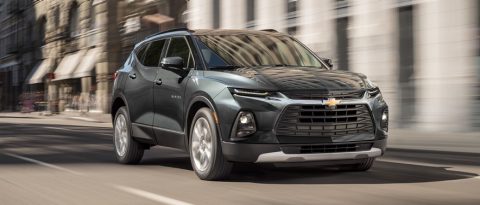 6 Questions to Ask During a Test Drive
I've spent a lot of time on the road and driven everything from a sporty convertible coupe to a 1-ton dually pickup. These drastically different vehicles have taught me what to look for before committing to a new vehicle. The next time you're ready to test-drive a new car, ask yourself the following questions.
Is there visibility?
How well you can see out of a vehicle is paramount to your safety. When you settle in to take your first spin in a new ride, take a moment to adjust your mirrors and check your blind spots. Take note of any concerns you may have, and ask about safety features like lane assist and backup cameras.
Does it fit my needs?
If you're like me, you've seen the previews for the new GMC Hummer EV supertruck, and it's the electric car you've always wanted. However, with three young kids, several pets and a mortgage, our budget is more in line with the Chevrolet Traverse. Either way, it's important to consider factors like budget and lifestyle. Though it may seem like a hassle, bring your car seats (and anything that might be tricky to fit in your new ride) and really test out how the vehicle will work for you.
Is it intuitive?
Whether you're looking for climate control or windshield wipers, one of the most confusing things about driving someone else's car is figuring out how to adjust the settings. Not knowing how to complete a simple task can quickly turn into a stressful situation. Everyone gets an owner's manual with their new car, but how many people really open them? Now is the time to get to know your vehicle and ask your salesperson about all the operating basics.
How does it perform?
One of the most exciting parts of test-driving a car is potentially upgrading from what you currently have. When you get out on the road, take the car through all the paces, including highway driving. Pay attention to how it steers, shifts gears, accelerates and brakes, as well as its turning radius. Don't forget to ask the salesperson about how the new vehicle performs when it comes to fuel efficiency, too.
Is it easy to park?
Parking starts and ends every journey in your car. Having a vehicle that's easy to park will save you a lot of future frustration, so take into consideration the parking situation where you work and live. Many newer GM vehicles include updated technology features. Parking assist, my personal favorite, can help take the struggle out of getting in between the lines.
Does it have any deal breakers?
Getting a new car is a big investment, so now is the time to be critical. Step back for a moment after the test drive and consider if there is anything that you didn't like. Are you too tall for the rear door? Does the step up make you feel like you're in a high-intensity workout class? Will your passengers — of all ages — be able to easily get in and out of the vehicle? These minor inconveniences might become a point of contention later on.
Answering these six questions can take the mystery out of what you should look for in a test drive; however, you may still need to find out how much car you can afford. If you've completed your test drive and you're ready to buy, arrive prepared with our car-buying checklist.