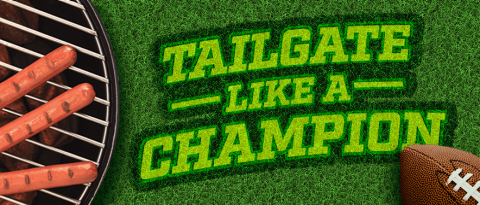 Quick tips for tailgate glory
Baseball season is inching ever closer to playoffs. College footballers and the pros are just getting started. Regardless of your preference, it means pregame festivities are firing up in the parking lot. Prep like a pro with these six helpful tips and be the envy of your fellow fans.
1.     Check the rulebook
The No. 1 rule to having a great time is knowing the rules of the venue where you're tailgating. Every place is different, so check beforehand for some of these guidelines and maximize the good times:
Parking lot opening times
Required times to vacate
Regulations on pop-up tents and grills
Proper disposal of trash and coals from grills
Where you're allowed to set up
2.     Easy-to-clean cuisine
Premade and pre-prepared are key for pregame cuisine. Make your party more Pinterest-ing and easier to clean up by thinking beyond the basics of grilled burgers and hot dogs. Consider premade cold snacks like cream cheese-veggie pinwheels or homemade buffalo chicken dip to complement the main courses. Trail mix, jerky and fresh fruit are also easy home runs.
3.     Garbage time
Speaking of cleaning, be a good citizen by picking up after yourself. Many parking lots that allow tailgating will have dumpsters, so bring several trash bags to keep your refuse contained and your area clean for future tailgaters. Extra points for bringing a bag for recyclables. Simply load up the bag in your vehicle and do your part to help the planet.
4.     Fare the weather
Whether it's hot and sunny or cold and rainy, knowing what to bring to brave the conditions can make every tailgate more comfortable. A pop-up tent can do wonders for keeping you cool in the heat and dry in the rain, just make sure the legs are weighted down if the conditions get windy. When it gets cold, air-activated heat packs or propane heaters can serve to keep you toasty when the grill isn't fired up.
5.     The game outside the game
Standing around and talking about the impending sports contest is only fun for a while. You could always opt for throwing a football for hours, but tailgate games like beanbag toss (a.k.a. "cornhole" or "bags"), ladder golf and washers (my personal favorite) are also big hits. If you do end up opting for the football, bring some extra ice for your sore post-game shoulder there, champ.
6.     Tailgate optional
Sure, it's called "tailgating," but that doesn't mean you have to have a truck to hang out before the game. SUVs are great for tailgating, and the back hatch can serve as a makeshift umbrella if it gets a little rainy. Bonus points for packing with labeled plastic totes, so you know what needs to be packed where and what needs replenishing for the next tailgate party. If you're looking to upgrade your vehicle or try something new for tailgating season, our easy online credit application can help you save time at the dealership.