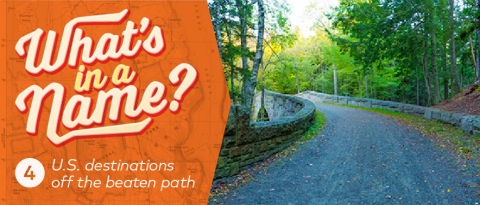 What's in a name? 4 U.S. destinations off the beaten path
Your choice of unique and interesting U.S. destinations is abundant. Some of the most famous are obvious, and many GM vehicles share names with them. Colorado, the Grand Canyon and Malibu come immediately to mind.
But what about some of the less-known destinations? Check out this list of travel spots with GM vehicle namesakes and plan your next trip to somewhere unexpected.
Tahoe National Forest

Lake Tahoe in Northern California is probably the first Tahoe-related destination that most would identify, but the national forest adjacent to it offers the epitome of the great outdoors.
The Tahoe National Forest draws thousands of visitors every year for camping, hiking and breathtaking mountain views. Peak season is during summer vacations from Memorial Day through Labor Day with winter sports like skiing, snowshoeing and snowmobiling falling in the Sierras' colder months.
Bucket-list activity: Hike a portion of the Pacific Crest Trail that runs through the forest. The PCT, as it's known by avid backpackers, is a 2,659-mile trail that runs from the U.S.-Mexico border to the U.S.-Canada border. Experience a small portion of it for a peek into the wild world of thru-hiking.
Cadillac Ranch

Cadillac Ranch is one of those oddball roadside attractions that you have to see to believe. Ten vintage Cadillacs of varying models are buried nose down in the ground, and the art installation is a living work that's constantly changing as ambitious visitors frequently (and technically illegally) apply their own spray-paint artistry to the cars.
It's located off IH-40 outside Amarillo, the largest city in the Texas Panhandle, which offers unique attractions of its own like an RV museum and outdoor musicals at the nearby Palo Duro Canyon.
Bucket-list activity: If you're the ambitious type, the Big Texan Steak Ranch and Brewery in Amarillo has a world-renowned challenge for you. Finish the 72-ounce steak ‒ and accompanying side dishes ‒ in one hour and your meal is free. Plus, you earn a spot in their hall of fame. Fail, and pay the $72 for your meal and live with the shame of defeat. How hungry are you?
La Crosse, Wisconsin

Perhaps not as well-known as other Wisconsin destinations, La Crosse has plenty of distinctive experiences to offer.
Located on the Mississippi River on the western state border, La Crosse hosts dozens of festivals throughout the year, including La Crosse Riverfest, which takes place during the week of July 4. With river related activities and tours to go with a robust arts community, the city is a hidden gem that many visitors discover for the first time every year.
Bucket-list activity: Grandad Bluff is an almost 600-foot cliff that overlooks La Crosse and offers a picturesque view of Wisconsin, Iowa and Minnesota. Naturally, this makes for a special vantage point for fireworks watching on July 4 and New Year's Eve.
Acadia National Park

You'll find some of the most highly populated areas of the country along the northeastern seaboard. That density fades quickly when you reach Maine. If you continue north into the state, you'll find Acadia National Park.
Even though it is one of the country's smaller national parks, Acadia is located on Mount Desert Island, which is the sixth largest island in the contiguous U.S. Hiking and camping are obvious draws, but kayaking and canoeing in the park are also visitor favorites.
Bucket-list activity: Sunrises don't get much more postcard-worthy than they do on Cadillac Mountain (bonus name!) that overlooks the Gulf of Maine and the Atlantic Ocean. Traverse the two-lane blacktop for a view that's truly worth Instagramming, or catch a sunset on the other side of the mountain at Eagle Lake.