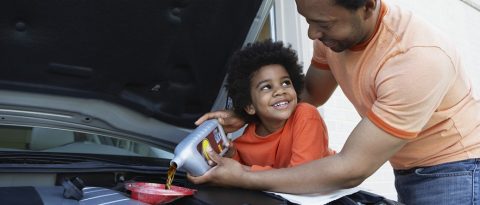 Stay Road-Trip Ready With This Summer Trip Prep
Before packing your snack essentials (Diet Dr Pepper® and gummy bears for me) and queuing up your driving playlist, it's critical to ensure that your vehicle is ready for any upcoming summer road trip, be it to a sun-drenched beach, a rustic family cabin, or a getaway "day trip."  
The great news is that your local dealership is not only an expert on your vehicle but may also have great service specials and incentives to ensure your vehicle is prepared for a road trip.
Here are just a few essential maintenance tips to get you off to a good start.
Cover the basics. Peace of mind is priceless when you're traveling, and a Multi-Point Vehicle Inspection can help you gain it. A multi-point vehicle inspection is like a checkup that can help identify any potential issues that could keep your vehicle from performing at its best all road trip long. Many dealerships offer them at discounted rates or even for free, which is great news when you want to save your money for snacks and souvenirs.
Be cool. A coolant flush, scheduled through your local dealership, can rid your system of dirt, rust and other debris that can clog a radiator and, in turn, overheat your engine. An overheated engine is more than just inconvenient; it can also turn into a very costly repair.
Slay the sludge. Engine parts must be able to move in unison and without friction, made possible with regular oil changes. Like many, I've always thought oil needed to be changed every 3,000 miles, but the industry standard for oil change frequency has evolved as engines have become more sophisticated. Service recommendations for your specific vehicle are available in your owner's manual.
Batteries need love, too. Summer sun can weaken a vehicle's battery if it is parked in direct heat. Also, built-up corrosion on battery terminals can damage a vehicle's air conditioning system and even a vehicle chassis.
Get some fresh air. A vehicle's cabin air filter helps to block impurities like dust, allergens and pollution from the air inside of your vehicle. But a clogged filter can cause engine strain and reduce the effectiveness of an air conditioning system..
Wherever your road travels take you this summer, be safe, have fun and schedule servicing with your preferred Chevrolet, Buick, GMC or Cadillac dealership before you go.