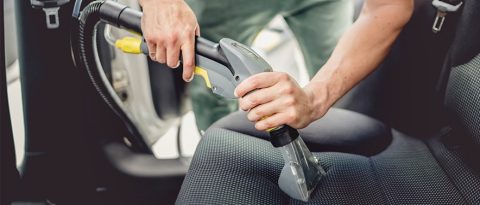 Safe, Simple Hacks to Clean Your Car
Keeping your environment clean is more important now than ever, especially when it comes to your car. Small touch-ups now can help you avoid big detailing charges later. Here are a few ways to freshen up your car without having to spend a lot of money.
Crystal clear windows

Mix a solution of equal parts tap water and distilled white vinegar to get a streak-free shine on all your windows. Spray, scrub and wipe away the dirt. Spritz the cleaned window with water and dry with a clean cloth. To avoid lint, forgo using paper towels and stick to using a microfiber cloth or newsprint.

Spotless seats

Pet hair and crumbs stick in crevices and cling to cloth seats. Brush your cushions regularly with a rubber squeegee or silicon dish scrubber to collect clumps of hair and the remains of last week's snacks. If your upholstery is starting to smell unpleasant, sprinkle baking soda on your seats, and let it sit for a few hours before vacuuming it up. Tuck a dryer sheet under the seat or in a side-door pocket to help keep your car smelling fresh.

To remove smudges from leather seats, put a bit of baking soda on a damp sponge and scrub gently. Rinse the area with a clean, damp sponge and buff with a dry cloth.

Dazzling dash and doors

Avoid using alcohol- or ammonia-based cleaning products on your dashboard or doors, as these can wreak havoc on the materials. Instead, fill a spray bottle with a diluted 4-to-1 mixture of warm water and a gentle shampoo and spray it on a soft microfiber cloth. For those hard-to-reach places like your air vents or around your door handles, use a dampened sponge paintbrush or cotton swab. To touch up between cleanings, wipe your dash with a dryer sheet to help pick up and prevent dust.

DID YOU KNOW: The owner's manual often includes recommendations for how to clean the vehicle.

Noticeably neat nooks and crannies

Don't let the grime stuck around your instrument panel or door handles stress you out. Gently press an electronics-safe cleaning slime on dirty areas and watch as the debris is lifted away. Note: It's a good practice to test all cleaning products you use on your car in an inconspicuous area first.

Incredibly clean cupholders

If your cupholders are coated in crumbs or sticky residue, spray them with the soapy cleaning solution you prepared for your dash and doors. Let it soak in for a few minutes, then use an old kitchen sponge to scrub away the gunk. Spray again and dry with a microfiber cloth. Drop in an easy-to-clean silicone cupcake liner to keep your holders tidy and looking fresh.
Ready to take it to the next level? Check out our YouTube channel for great tips to organize your trunk and more.