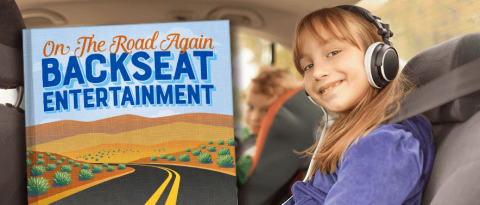 On the Road Again: Backseat Entertainment
Prepping for a road trip? Before you head over the river and through the woods, consider these 10 road-trip tips to entertain passengers (and driver, too) from driveway to destination.
Wi-Fi and Downloads
Connect to in-vehicle Wi-Fi (available for a monthly fee) if your GM vehicle offers it. Just press your OnStar button to get started.
Download content to your device before you hit the road if you don't have in-vehicle Wi-Fi.
Load digital downloads (available with DVD purchases for your tablet or smartphone) onto your devices before leaving.
Power and Battery Packs
Charge and pack several backup power packs and ensure they're within arm's reach to minimize roadside stops.
Take advantage of in-vehicle charging with the various power options offered by GM vehicles, from the Chevrolet Suburban with up to 14 charging locations to the Cadillac CTS with wireless device charging.
Pack an extra-long charging cable, if traveling in a large vehicle, for passengers in the back who may not have charging access.
Tools of the Trip
Double-check that everyone has their own headphones, and pack an extra pair (or two) just in case.
Invest in a headphone splitter, so passengers can listen to the same entertainment together.
Technology-Free Entertainment
Reach for the word search, coloring books, sketch pads and crossword puzzles for individual tech-free activities.
 Try out one of these group activity tips for road-trip entertainment for kids:

Musical chairs — Everyone rotates to another seat at the next fuel stop or bathroom break.
Trivia game — Bring your favorite trivia game to play in the car; winner gets to pick the next stop.
I spy — A road-trip classic, take turns spotting objects to help pass the time.
For additional ways to make your next vacation a smooth ride, check out these suggestions for planning a drama-free family road trip.