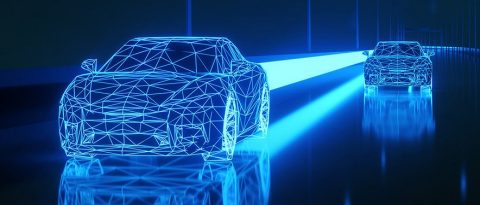 We asked, you answered: New Car Technology 2020
No need to blast off into the future to experience out-of-this-world technology. Vehicles today have things you couldn't have even imagined years ago, which begs the question — what's the next big thing?
That's why we asked customers like you to share predictions for what the driving experience will be, and some of them might surprise you.
"In the future, vehicles will be able to park themselves."
You might be surprised to know that some GM vehicles offer available Automatic Parking Assist.
When activated, it can help you parallel and perpendicular park at low speeds by automatically steering your vehicle into the detected parking spot. You just have to follow text commands, select gears and brake or accelerate as needed.
"I think cars will automatically report accidents."
Whether it's a fender bender or a more serious accident, there are few things scarier than your car colliding with another. But you'll be pleased to know that crash reporting already exists.
OnStar® offers Automatic Crash Response, which uses built-in sensors to automatically connect you with an OnStar Advisor, even if you're not able to call on your own. With OnStar assistance, emergency services can be contacted as needed.
"Cars will be able to stop before hitting things."
While the technology crafted for all speeds is still in the works, select GM vehicles have available Front Pedestrian Braking. When you're driving below 50 mph, the system can alert you of a collision detection with a pedestrian ahead.
It may also help to reduce the severity of a collision or avoid it altogether by automatically activating hard emergency braking if you haven't already. If you have, it can enhance driver-initiated hard braking.
Also, Adaptive Cruise Control, available in certain GM vehicles, helps maintain a safe gap between you and the detected vehicle ahead.
"You'll be able to shop from your vehicle."
Luckily, GM Marketplace connects you to local businesses — from restaurants to gas stations — in your area through the screen in your vehicle, and it's available now.
Simply select the business you want to purchase from and complete the transaction all from behind the wheel while your vehicle is safely parked.
Although the days of flying cars have yet to come, it's refreshing to know that some technology predictions are already here. Looking to upgrade to your next GM vehicle to take advantage of 2020 features? Fill out an online credit application to start the process today.