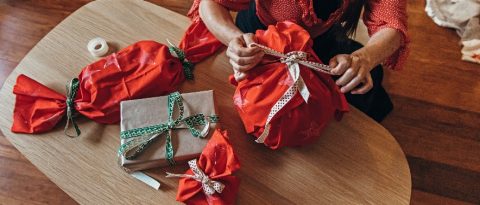 Ways to Stretch Your Holiday Budget
For many, it's the most wonderful time of the year. From twinkling lights to cooler temps, there's a lot to enjoy about the season of giving. However, buying gifts for everyone can be hard on your wallet.
Whether you've been saving for the holidays for months or are just starting to think about what to get for everyone on your list, there are a few things you can do to get the most out of your budget.
Hop online
If you want to know about in-store deals, your favorite retailers will likely remind you of current offers when you opt in to receive emails or sign up for a free trial. Plus, a lot of companies will give you a percentage off your next purchase just for signing up.
And when planning gifts, visit the store's website to see if any offers are advertised. Oftentimes, there are banners on the page that include codes for free shipping or discounts. It's also worth looking into plug-ins and online coupon codes for the possibility of even greater savings.
Create experiences
Instead of tangible gifts, giving experiences can make the holiday season that much sweeter. Whether that's tickets to a socially distant event or spending money for an upcoming trip, making experiences possible can be more memorable gifts.
You may also find deals available if you buy in bulk, so getting a group of tickets to an outing can be a great way to knock out a few gifts in one fell swoop.
A quick search can tell you what outdoor events are open in your area to make your night drives and activities that much more fun.
Be crafty
While you're determining what to get everyone on your list, remember there are ways to give gifts without having to buy something premade. A scrapbook, handwritten letter or other display of memories is unique and worth hanging on to without a huge price tag.
You can be creative with how you wrap gifts, too. Newspaper makes quirky wrapping paper, especially if you use the comics section or sports pages. And gift bags are great to repurpose since all you have to buy is tissue paper, which is available in bulk at a lot of discount stores.
Not to mention, bypassing the costs of wrapping gifts means you'll have more funds to allocate toward the gifts themselves.
Get charitable
Part of the holiday season is giving to others, and the options are expansive. Whether you're contributing to a local organization or driving change in your community with your vehicle, giving to charity as a gift is a great way to spread the holiday spirit, especially if you donate to a cause they're passionate about.
Even if you're not donating as a gift, research ways your favorite stores give back. Online retailers sometimes donate a portion of their proceeds to the charity of your choice if you do something small like checking out through a certain website or buying a specific product. It's a small way to make a difference while doing something you would've anyway.
Put a bow on it
Getting creative with the gifts you give without breaking the bank helps the holidays be more enjoyable for you and those you love.