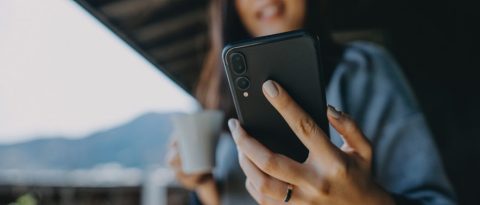 It's no secret that communication is a two-way street. And whether we hear from you or you hear from us, staying in touch has never been easier. The choice is yours.
NEW! Opt in for text alerts
If notifications on the go are your thing, you can customize your experience in MyAccount. Sign up for text alerts to receive payment reminders or late payment alerts.* Simply log in to MyAccount, update your notification preference in your profile and respond to the initial text to complete the process.
Pro tip: Before you opt in to text alerts, review and confirm that the mobile phone number on your profile is correct, so we send notifications to the right place.
Message us in MyAccount
MyAccount is a great resource for staying in the know about everything related to your account. By creating a profile, you get access to your statements, payment history and direct messaging with our Customer Experience team whenever the timing is right for you.
Initiate a message with a Customer Experience Advocate online or through the GM Financial Mobile app. The Advocate can answer questions about your specific account, and the conversation will be saved for 13 months, so you can reference it as needed.
Pro tip: If you already have MyAccount, verify that the correct email is saved to your profile, so we're sending the information you need to the right place.
Send us a text
If you prefer to text with a Customer Advocate, grab your phone and text INFO to 53721.* Advocates are available to help answer your questions and provide you the information you need while you go about your day.
Give us a call
For questions that need more explaining, you can give us a call during support hours. You can reach us at 1-800-284-2271 to start the conversation.
Support hours
Mon-Fri, 7 a.m.–6 p.m. CT
Sat, 9 a.m.–1 p.m. CT
Sun Closed
No matter how you choose to get in touch (or stay in touch) with us, we're excited to help you get the answers you need.
*There is no charge from GM Financial, but message and data rates may apply.