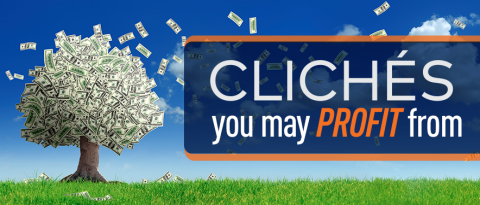 Clichés You May Profit From
Overused and underappreciated, clichés often find themselves buried amidst the sayings people try to avoid. However, they don't always deserve a bad rap.
These clichés prove helpful when refreshing your approach to spending, budgeting and saving.
 
A FOOL AND HIS MONEY ARE SOON PARTED
How do you avoid being foolish when it comes to your financial decisions? Make some sacrifices with steady investments now, so your financial future is brighter.
Whether that's contributing to a 401(k) or investing in demand notes, CDs or mutual funds, getting in the habit of investing in your future can help you reap the benefits down the line. Of course, you'll want to do some research to determine what options you qualify for that best fit your saving strategy.
Double-checking your bank and credit card statements can also be beneficial. Not only will you ensure that the charges are correct, you'll also be able to see where exactly your money is going. If anything is glaringly expensive, you'll be able to make a change to establish smarter spending habits.
 
MONEY DOESN'T GROW ON TREES
The premise behind this cliché is that money isn't always readily available because it's hard to earn and, sometimes, even harder to keep.
However, when you're crafting your budget, it's important to be realistic. To help, be conservative about the post-tax amount of money you have coming in on a weekly, monthly or yearly basis. Then, factor in your fixed expenses and any upcoming financial obligations like a vacation or wedding to attend.
From there, you can determine something small like how often you can afford a $5 morning cup of joe or something bigger like how much you can afford to spend on a new car. Ironing out these details can be difference-makers for your bottom line.
 
A PENNY SAVED IS A PENNY EARNED
Short, sweet and to the point. This saying might be older than the one about sliced bread, but it's evergreen when it comes to saving money. However, it's not as simple as saying you'll save money.
If the thought of planning everything out is stressful for you, focus on small changes. Parking at a sporting event? Opt for the less expensive lot that's a bit farther from the stadium. Going out to eat? Head to the restaurant at happy hour to take advantage of half-off deals, and then put the difference in your savings account or add it to your emergency fund.
Even switching from one-click pay or the swipe of a card to old-fashioned cash is a great way to see the money you're spending. You likely won't be as eager to drop $25 on a new shirt or $100 on concert tickets if you watch firsthand as dollars disappear from your wallet.
 
AT THE END OF THE DAY
Putting just one of these budgeting and savings clichés to work can make a difference because financial stability never goes out of style.