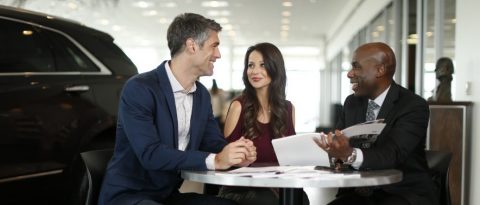 Auto Finance Terms Smart Shoppers Need to Know
Sometimes, walking into a dealership can feel a little bit like being in a country where you don't speak the language. Boost your confidence by brushing up on the top 10 auto finance terms you're likely to hear at the dealership.
Acquisition fee
An administrative fee charged at the start of your lease.
Annual percentage rate (APR)
Annual percentage rate is the total cost of credit – including the interest rate and other charges – expressed as a yearly rate.
Disposition Fee
A fee that is charged at a flat rate after returning a leased vehicle. The fee covers the cost of preparing the vehicle for resale. If you buy or lease a new GM vehicle, or choose to buy your existing leased vehicle, GM Financial may waive this fee. If you're a GM Financial lessee and want to see the amount of the disposition fee, refer to section 4 of the lease agreement.
Down payment
The money you provide upfront to reduce the total amount you plan to borrow.
Guaranteed auto protection
Also known as "GAP insurance," guaranteed auto protection is an optional product that pays the difference between how much you owe on your vehicle and how much your vehicle is worth in the event it is damaged, stolen or destroyed before you have paid your contract in full.
Lease
An agreement that allows the customer, or lessee, the right to use the vehicle during a particular period of time in accordance with the terms of the agreement.
Lien holder
In auto finance, a lien holder generally refers to the financing source that provides financing to help you purchase a vehicle. If you don't make payments, the lien holder may take possession of your vehicle and sell it to help pay your debt.
Retail installment contract
A retail installment contract is a contract for the sale of a vehicle according to the payment terms and other terms set forth in the agreement.
Simple interest
GM Financial uses the simple interest method to calculate interest charges on your loan. On a simple interest contract, interest accrues daily on the unpaid principal. Your monthly payment is applied first to the amount of interest accrued that month, then to the principal.
Vehicle service contract
Sometimes known as an "extended warranty," this is an optional service contract that covers certain repairs or services. A vehicle service contract may be purchased at any time. A warranty comes with a new (and sometimes used) vehicle and is included in the price of the vehicle.
Check out our free online resources for more key words and phrases you're likely to come across in auto financing and vehicle ownership.