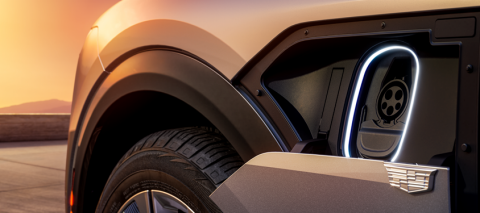 EV Advantages You'll Love
Drive into the future for an exhilarating experience in an electric vehicle (EV). Discover how the distinctive benefits of an EV will fit into your daily life.
Accelerate past gas stations
At-home charging is simple and convenient, while on-the-go charging offers the option of an accelerated charge. The average cost of driving electric is $1.16 per eGallon1, significantly lower than the cost of gasoline.
Plug in at work, while shopping or enjoying an evening out. Malls, grocery stores and public parking areas offer charging stations, oftentimes complimentary. Mobile apps allow you to locate public charging stations nearby.
Charge at home while you recharge — during dinner, while you sleep or anytime throughout the day or night. Connect with your preferred Cadillac dealer to learn about including an at-home charging station in your vehicle financing.
Exceptional driving experience
Savor your peace and quiet. Enjoy a smooth, quiet ride due to the battery-powered electric motor. With nearly instantaneous torque, EVs put a new spin on acceleration and performance. Enjoy audible entertainment or relaxing silence on your exhilarating drive.
An EV for your lifestyle
The Cadillac LYRIQ is a full-size SUV that will seamlessly integrate into your daily life. With extensive cargo space, smart safety features and an estimated 300 miles per charge, it offers you the flexibility and sophistication you expect from a Cadillac.
Connect with your preferred Cadillac dealer to learn more about the clear advantages of moving to an EV.
1U.S. average estimate as of March 3, 2021. Learn more here.