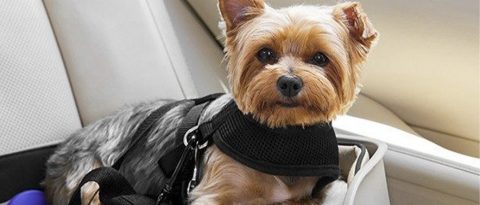 Paws Please! Car Safety For Your Pet
My dog's desires are not particularly complicated. Getting scratches behind the ear? Check. Chasing squirrels? 100%.
However, one of his favorite things to do — sticking his head out of the window of my Silverado while I drive — is also one of the most unsafe. So, in the spirit of making family trips with our four-legged friends safer, easier and more convenient, consider these tail-wagging travel tips.
Tongues inside the car
You wouldn't hit the road without fastening your safety belt. Nor would you let a child passenger walk around in the back seat untethered. Why should your dog be any different? Consider securing a crate in the back seat so he or she is as protected as possible. Other options include dog seat-belt harnesses and leashes that attach to the latch systems used for children's car seats.
Your pets might not prefer the restriction versus lolling their tongue in the breeze, but the peace of mind that comes with keeping them safer is well worth it.
Feline tip: If your cat is traveling with you, it's safest for your fur baby to ride in a crate that is properly secured to the seat.
Distractions=Bad dog behavior
If your dog is tethered in the back seat, you've likely already eliminated most of the danger of your pooch hopping into your lap. Regardless of how secure he or she is, it's always important to keep your eyes on the road and not allow any barking or misbehavior distract you.
Reaching in the back seat while the vehicle is moving is definitely a "bad dog" move, and finding a safe place to pull over to address issues is always your best bet for safety.
Sit, stay, plan ahead
For medium or long trips, you might think about your automobile needs. However, don't forget about the canine ones, too. How often will he or she need to go for a walk, and do you have a leash accessible? Will your pup get hungry? How about staying hydrated?
Make a short punch list that you can reference before taking off to make road-trip planning easier and simpler for you, and more comfortable for your four-legged passenger.
As for your vehicle, it's better to spend a little time prepping and getting it serviced before your trip to avoid getting stuck with car trouble on the road. Pro tip: Always keep your emergency kit packed for unexpected bumps in the road.
A clean, safe back seat
Are you worried about the condition of your car seats and keeping it clean? Consider a dog car seat cover that acts like a thick, protective hammock and straps onto the headrests in your back seat. You can also ask your dealer about floor liners for some added protection.
This, coupled with a restraint attached to the seat, helps provide a defined space for your dog to hang out while providing an extra layer of protection for your dog and your seats. If you're leasing, keeping your seats in good shape is also one of the essentials in helping avoid excess wear-and-use fees at lease end.