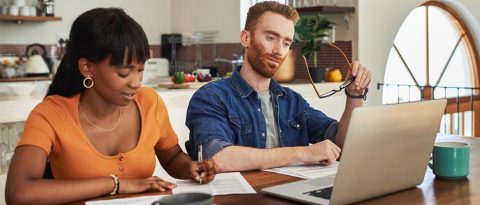 Tax Season: Getting a Refund or Owing
As you prepare to file your taxes, it's important to understand the possible outcomes. You'll likely find yourself in one of two camps: Excitedly awaiting extra money in your account or curious as to how to pay what you owe.
Expecting a refund
If you expect that you'll be getting a refund, there are a few ways you can use it to your advantage:
Pay down debt. Paying down any outstanding debt — student loans, credit cards, etc. — is a good option. Lowering your debt now will reduce the amount you pay in interest over time, giving you more money to work with down the line.
Save. Save. Save. If you can, saving your tax refund can be a great way to start an emergency fund or prepare for an upcoming expense.
Plan for your future. Whether you're saving for college, making home improvements or investing in a new vehicle, using your refund to improve your future is always a good idea.
Preparing to owe
If you're on the other end of the spectrum and found yourself owing this year, there are several ways to prepare for filing your taxes next year.
Estimate the amount early. You can use an online calculator to figure out a ballpark number of how much you'll owe. From there, you'll be able to determine a plan.
Adjust accordingly. If your current budget doesn't account for the additional taxes you'll owe, explore opportunities to trim other expenses. It might require sacrifices in the short term, but it will certainly be worth it once your taxes are in the rearview. 
Get ready. If you can, work with a tax professional to determine a way to plan for the next year and set yourself up for financial success.
No matter which camp you find yourself in, there's a light at the end of the tunnel. And you can move forward with the confidence that you're prepared for the road ahead. Want to learn more about finances? KEYS® Online is home to free courses that can help.