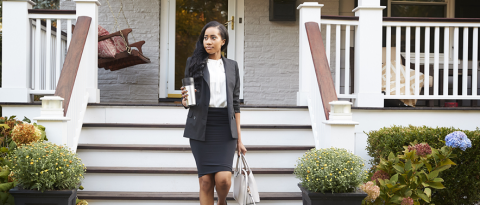 Your Return-to-Office Budgeting Guide
As businesses call remote workers back to the office and a new school year approaches, we could all use a refresher on all those recurring expenses we forgot about. Yes, that means:
    Refueling more frequently
    Packing a lunch since you'll be away from the kitchen
    Oh, and the kids grew over the summer and need new school clothes
Here's a list of costs you may have to re-factor into your budget when returning to the office. Our downloadable budgeting worksheet can help.
Your Vehicle
Fueling up. As our vehicles are driven on a more frequent basis again, we need to fill them up more often. It might be helpful to designate a day of the week to gas up to get you back in the routine. If you own an electric vehicle, lucky you!
Vehicle maintenance. It's a good idea to schedule routine auto maintenance. Check your tires, do a multipoint inspection and change the oil. Remember, oil changes are not necessary for electric vehicles.
Tolls and parking. If you work in a big city or a crowded office complex, you may need to pay to park near your building. Taking a toll road is another expense to factor in.
Your Family
Child care. Parents in the office no longer have to be the teacher, babysitter and working professional all at the same time. If you have children, you'll want to factor child care into your budget.
School supplies. Your child will likely need new folders, binders, notebooks, etc. Hand sanitizer, wipes and face masks are probable additions to the back-to-school list this year. A new school year might also mean new uniforms if part of your child's school dress code. Additional back-to-school costs like school dances or celebrations won't necessarily be on the supplies list, but they're worth budgeting for as well.
Extracurricular activities. Sporting and academic programs in and outside of school may have fees associated with them. Incorporate these elements into your budget and plan for activities when they go back into full swing.
Yourself
Appropriate work attire. One perk of working from home was wearing sweatpants and T-shirts, but most offices require clothing that's a little less comfortable. Your garments might need to be taken out of the closet for a good dusting off, and the suit may need a trip to the dry cleaners.
Lunch or midday coffee run. The cost of lunches and afternoon pick-me-ups can add up fast. If you enjoy cooking like me, you can prepare your lunch the night before. Even buying a sandwich from the grocery store and bringing it to work can save you money compared to going to a restaurant for lunch.
Gym or other close-to-work conveniences. If you used to stop by the gym before going home because it was close to work, you'll want to add the monthly membership cost back into your budget. The same goes for that dinner and drinks night with co-workers or friends.
All those little things can add up, and there are many budgeting styles to help keep track of money and expenses. For more resources to help you make smarter financial decisions, check out our money management courses at KEYS® Online.