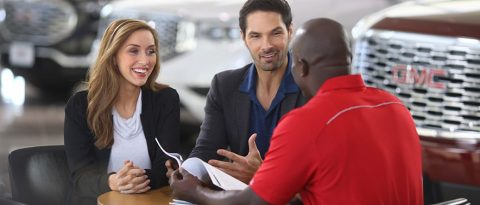 6 Questions You Need to Ask Before You Buy
Getting a new vehicle is an investment, so you want to be confident in your choice. Be prepared to ask these six questions before closing the deal at the dealership.
What is the total price?
Knowing how much car you can afford is key to staying on budget. Remember that the final price you'll pay is usually more than the list price. Tax, title and license or other dealership fees may push the price higher than planned. Understanding the fees that go into the final cost of the vehicle you're looking at will help keep you on budget.
Has the car been in any accidents?
A used car might look pristine on the surface, but problems from previous accidents looming beneath the surface could lead to major issues in the future. However, if the vehicle is part of the GM Certified Pre-Owned (CPO) program, you can move forward with confidence that the car underwent a 172-point inspection and comes with a vehicle history report.

Whether you ask to see a full vehicle report to check the accident history of the car or purchase through the GM CPO program, knowing the history of your new car allows you to plan for your future.
What does the warranty cover?
Each new or GM CPO vehicle purchase comes with a warranty. But what exactly does that cover? Asking someone at the dealership to walk through the warranty details — like whether scheduled maintenance or oil changes are included — can help you plan your finances months in advance.
What should I know about the tech features?
Auto technology and safety features advance every year, but we don't always know how to use them. Get the most out of your vehicle by learning how to integrate with your smartphone before you leave the lot. Ask your salesperson to explain the safety features during your test drive to know if these extras are right for you.
What ancillary products can I add?
When purchasing a new vehicle, it is important to consider any potential coverages you may want for your vehicle. If you plan on purchasing ancillary products, the dealership may be able to include the cost of those additions in your agreement. If you're considering leasing instead of buying, check with your dealer for plans that cover excess wear and use of the leased vehicle.
Are there any incentives or discounts?
Sometimes, manufacturers offer incentives for new purchases. Whether that is a discounted interest rate, down payment assistance, cash back or a rebate, these incentives can help drive down the total cost of your new vehicle. Having flexibility while shopping for your next ride can allow you to take advantage of every savings opportunity. Visit our current offers page for the latest incentives on vehicles.
The most important part of car buying is feeling empowered and informed throughout the process. Asking these questions will allow you to better understand the process of financing a vehicle and be as informed as possible.
Ready to head to the dealership? Don't forget to grab your car-buying checklist and apply to prequalify before you go.