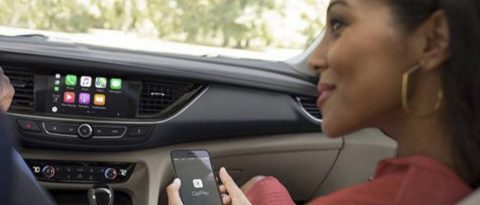 The Convenience of a Connected Vehicle
There are great options for advanced technology across all vehicles, so whether you're searching for a new car or wanting to know what features you may have available in your current ride, here are some of the latest ones you could have missed:
Technology in Your Vehicle
Whether you're on your daily commute or a long road trip, the technology in your car provides you with a convenient driving experience.
Infotainment
Apple CarPlay® and Android Auto™ have been integrated within GM vehicles for a few years now, but each year brings new additions to the convenience of these systems. One of these useful, new features of the OnStar® Connected Services is the GM Marketplace. Find the nearest gas station or parking lot, order food from a nearby fast-food chain, and even make dine-in reservations at your favorite restaurant, all from your dashboard.
Distraction-Free
Features such as the head-up display, which projects your car's speed onto the windshield, and wireless charging help you stay focused on the road. Most new, base-model vehicles now come with Bluetooth capability, so you won't get distracted by a tangle of wires in the front seat.
Amazon-Integrated
In addition to the convenience of GM Marketplace, Amazon has partnered with GM to provide Alexa commands for your car and added a delivery option to your trunk. These useful features are just a few of the many ways that technology is shaping the driving experience.
Technology in Your Pocket
Technology doesn't stop in the front seat, and through the mobile app, you can take convenience wherever you go.
Tracking Your Vehicle
GM offers a personalized experience through its brand-specific apps for your mobile device. Each app allows you to track the mileage of your vehicle, the gas in your tank, its location and tire pressure. The app also serves as an extension of your key fob, so you can lock, unlock and start your car. Also, if your car needs repairs, you can schedule an appointment at your closest GM service center.
GM Marketplace-Integrated
Along with tracking your vehicle status, the app also offers you the same access to GM Marketplace as found in your car. Whether you order food to be picked up later, or search for a cheap parking lot, GM Marketplace gives you the tools to make your commute as efficient as possible.
Financial Resources
In addition to the branded apps specific to your vehicle, GM Financial has a mobile app to manage your account, pay your bill or message us from anywhere. Download the GM Financial Mobile app from the App Store or Google Play to dive all the way in to the ownership experience. You'll also receive 1000 GM Rewards points by simply downloading the GM Financial Mobile app and enrolling in paperless billing. Visit MyGMRewards.com to learn more.
While these technological advancements may be enticing for your next vehicle purchase, keep in mind they are not available for all brands or models. Take some time to learn how much car you can afford before taking the first step in the auto financing process.