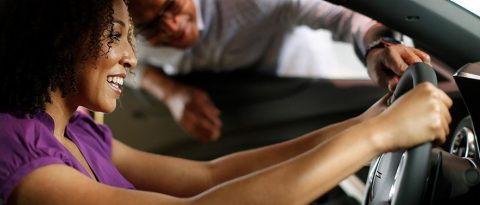 Car-Buying Checklist – Your Guide to Prepared Shopping
Whether you plan on leasing or buying a new car, it's a big decision. We put together a simple guide to help you conquer car buying. If you're unsure what features you really want, or you're mulling over which financing option is right for you, we can help you narrow it down.
View our car-buying checklist below to prepare.
Do your research

Think about what kind of vehicle will serve you now and three to five years down the road.

Visit our current offers page and enter your ZIP code to get started
Select the brand and model that fits your lifestyle
Search for inventory in your area

Choose your features

Add-ons and upgrades allow you to personalize your vehicle

Review trim levels and add-ons
Prioritize desired features
Research key upgrades online

Calculate your vehicle budget

As you get ready to lease or buy a new car, truck or SUV, don't forget to estimate the cost of the following:

Down payment (if applicable)
Monthly payment
Insurance
Gas or electric charging, tolls, parking
Regular maintenance

Decide whether to lease or buy

Both financing options have their benefits, and the "right" choice depends on your situation and preferences.

You might consider LEASING if you ...

Drive a predictable amount of miles.
Enjoy driving the latest model every few years.
Prefer a lower monthly payment.

You might consider BUYING if you ...

Don't want to worry about mileage limits.
Aren't concerned about fixing every scratch or dent.
Like the idea of owning your vehicle free and clear after you fulfill your finance contract.

Want more information to help you decide? See other differences and more on our lease or buy page.


Apply for financing

Visit the dealership

Now that you know what you want and how you'll pay for it, it's time to reach out to your dealer. Each dealership has its own protocol during COVID-19, so you'll want to double-check before heading that way.

Gather your driver's license and proof of insurance.
Prepare to test-drive the vehicles you're interested in.
Talk to your dealer about next steps.

Pick up your car

Are you ready to take that dream car home?

Remember your down payment, prequalified financing letter (if applicable) and insurance card.
You may also need proof of employment, residency and income.
Got a trade-in? Don't forget the title, registration, keys, account information and owner's manual.