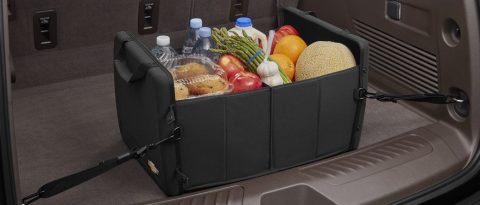 5 Car Accessories You Didn't Know You Needed
I like my car a certain way, so before I go anywhere I make sure it's set up just right: the seat angled comfortably, the mirrors adjusted and the infotainment system programmed to my favorite SiriusXM® station. Another way to personalize your driving experience is with cool car accessories.
Here are five game changers:
Cabin organization
I can't be the only one who puts straw wrappers and receipts in my car door's storage, right? Car organization, like an in-car garbage bin or bag, can help ensure everything stays tidy.

If you're in need of more storage, over-the-seat hanging pockets can be the perfect home for your hand sanitizer and electronic cords. You'll feel better knowing there's a place for everything, and you'll likely spend less time using cleaning hacks for your car.
Assist steps
If you're on the shorter side like me, getting in and out of larger vehicles can be a challenge. Built-in assist steps help make the process that much easier and are perfect for kids and pets, too.
All-weather floor mats
On rainy or snowy days, you'll be glad you made the investment in floor liners or mats. They make cleanup easy, whether you're dealing with mud, snow or spills. With custom sizes for hundreds of Chevrolet, Buick, GMC and Cadillac makes and models, there's bound to be an option that will protect your floors, no matter what.
Roof racks
For road trips, weekend getaways and everyday needs, accessories for an active lifestyle are essential. Whether you're planning to take a kayak with you on a lake trip or want to secure your bike for your next ride, these accessories help keep your valuable equipment safe.
Tech gear
I enjoy the convenience of my magnetic phone holder. One side easily secures to my air vent while the other rests in my phone's case. Its sleek look coupled with the fact that I always know where my phone is makes it a winning combination.

I've also come to love having an auxiliary power outlet air pump in case my tire light comes on and I need to add air on the go. When it comes to tech accessories, if you can think of it, it's probably for sale. And some are well worth it for aesthetics and safety, too.
All of these options can help you get exactly what you need out of your car, truck or SUV. And did you know you can redeem GM Rewards points for select accessories? Create an account today to start earning points.